FIRECAT PROJECTS presents
More Than I Had To Say: New Paintings by Samantha Simpson
Opening Reception on Friday, August 3rd, 7-10 pm
Exhibit runs through August 24th
CHICAGO- July 2, 2012 Samantha Simpson's More Than I Had To Say at Firecat Projects is a show that won't shut up.
Simpson makes work on paper that includes otters attacking swans, talking turtles, singing flowers, and several egotistical cockroaches that one suspects are self portraits. This could suggest that the work is for children, but it is not- to say the work is layered is an understatement. The paintings function like visual poetry or, or large scale panels from a graphic novel. There is a loose, complex story that flows around the gallery walls, and each piece builds upon the last.
One can read Simpson's pieces like paintings, drawings or poems. Each piece starts as a drawing, done with ink pens and magic makers, and ends with dense archival watercolor paint that leaves much of the original drawing uncovered. The imagery in several of the pieces centers around a battle between a swan and an otter. Text flows over and around the images. The central characters battle and embrace amidst an atmosphere of commentary by other creatures. Flowers sing sad odes to fallen heroes, and turtles grasp for sentimental meaning in the skull of an old sea turtle under the water.
The four largest pieces in the show deal with the artists' questions about aesthetics. The swan and otter champion different approaches to art. The swan is portrayed as a chaotic force, one that represents aesthetic pleasure that is embodied, as in representational or figurative art. As such, it is suspect, cheap, and sleazy- the swan in these pieces is a bit of a floozy. The otter, who craves the new, the pure, and the disembodied mind in his art, seeks to democratize aesthetics by turning the swan into something more easily shared and controlled. It's not clear who wins the battle, but various scenarios are suggested.
Samantha Simpson is an artist who lives and works in Philadelphia. Her work has been exhibited nationally and internationally and can be seen on her website, samanthasimpson.com. This is her first show in Chicago. She will be attending the opening reception on Friday August 3rd and is more than happy to answer questions by phone or email.
Beer and wine for the reception graciously provided by Three Floyds and Red and White Wines, respectively. All events are free of charge and open to the public.
<![if !vml]>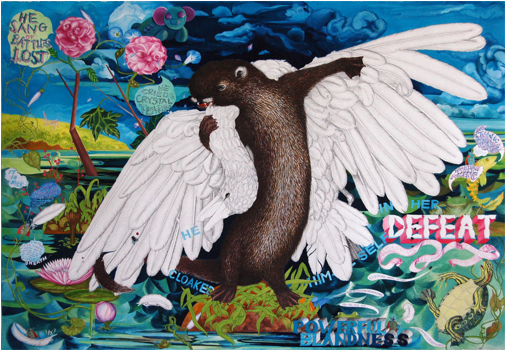 <![endif]>
Samantha Simpson, Episode, Ink and watercolor, 30"x44",2012
WHEN: Opening Reception: Friday, August 3rd, 7-10 pm
Exhibition: Through August 24th,
Regular Hours: Monday-Saturday 10am-4pm or by appointment
WHERE: Firecat Projects2124 N. Damen Avenue, Chicago IL 60647
Located in Chicago's Bucktown neighborhood
ABOUT FIRECAT PROJECTS:
In 2010, artist Tony Fitzpatrick converted his longtime studio into a new kind of gallery featuring a fantastic line-up of artists from all around the country and Chicago. Run by Fitzpatrick's business partner Stan Klein, Firecat Projects empowers artists to take charge of their careers by taking no commission on sales, and as such, has to be creative in generating funds. The production of plays as well as the sal of books, posters and t-shirts are just some of the ways they are able to support exhibiting artists.
MORE IMAGES of artwork in the show can be seen at :
http://www.samanthasimpson.com/artwork.html
Web ready graphics are available for journalistic use only on the website here.
Click here for high resolution images.
CONTACT Samantha Simpson at sam@samanthasimpson.com
<![if !vml]>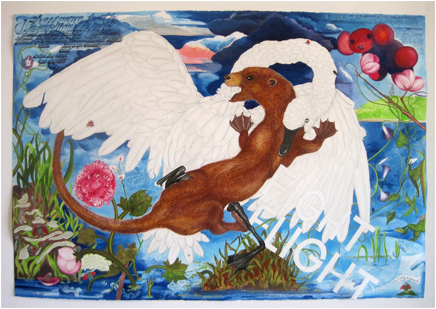 <![endif]>
Samantha Simpson, Fight/Flight, Ink and watercolor, 30"x44" 2011